Posts for category: Uncategorized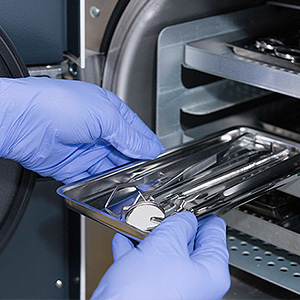 During this year's National Public Health Week in April, health issues like vaping and the opioid crisis are taking a back seat to what is front and center on everyone's mind: the novel coronavirus (COVID-19). This highly contagious viral infection is upending business as usual for most of the world in a way unlike anything we've experienced. Nothing is "normal" right now, including dental care.
As with other aspects of daily life, you can expect disruptions in dental care because of COVID-19, especially involving routine visits. But with that said, we're working hard to ensure your teeth and gums aren't overlooked during this global crisis. We are here for you, so please call us for any questions you may have, and especially if you are experiencing dental pain.
If you do need to visit the dentist for treatment, you might be concerned about potentially exposing yourself or others to COVID-19. Like every business that interacts with the public and especially all healthcare providers, dental offices are implementing extra precautions during this time to protect both patients and staff against infection.
This isn't something new: The dental profession as a whole has strict protocols for preventing infection that have been in place for several years. Infection control is a top priority for dentists at all times, not just during outbreaks like COVID-19. Here are some of the things we do—and are expanding because of the novel coronavirus—to keep you safe during dental appointments.
Barrier protection. Dental providers routinely use disposable items like gloves, face masks or eyewear to prevent disease spread during procedures that involve close contact with patients. For extra precautions with COVID-19, we're adding more of this type of barrier protection.
Sterilization and waste disposal. Instruments and equipment that we use repeatedly are thoroughly sterilized to remove all microorganisms, including coronavirus, from their surfaces. For disposable items used during treatment, we keep these separate from common waste and dispose of them according to strict protocols for handling bio-medical waste.
Disinfection. Even though the main pathway for spreading COVID-19 is through respiratory droplets in the air, we're continually disinfecting office and treatment surfaces that the virus might potentially contaminate. In doing so, we're using substances recommended by the U.S. Centers for Disease Control (CDC). By the way, you can find a list of such products at //www.americanchemistry.com/Novel-Coronavirus-Fighting-Products-List.pdf.
These are uncertain times for all of us. But while we're cooperating with social distancing and other measures to slow the spread of COVID-19, we're still here partnering with you to keep your family's teeth and gums healthy.
If you would like more information about special dental precautions during this time, don't hesitate to contact us. To learn more, read the Dear Doctor magazine article "Infection Control in the Dental Office."
We are not a spa, we are a dental office. We do not want to be a spa.We specialize in patient comfort and the delivery of the best possible dental care we can provide.

Dr Poss and his staff regularly attend continuing education courses to stay up to date on cutting edge dentistry.Our hygienist is an expert in gum tissue care and has been using the latest LBA (Laser Bacterial Reduction) for several years with fantastic results.
Our focus is on quality care for your teeth and gums, helping you to keep your teeth for a lifetime!
By CHRISTOPHER POSS, D.D.S.
August 15, 2017
Getting your teeth whitened professionally can be a life-changing experience. Whiter teeth are associated with youth, health, vitality and even your level of professionalism in the workplace. Your dentist have the ability to improve the appearance of your teeth by up to eight shades in one short visit. Explore the following FAQs about teeth whitening so that you can decide if this cosmetic treatment is right for you.


Why is Professional Teeth Whitening the Best Option?
Over the counter whitening products are convenient but problematic for a number of reasons. For one, they take a long time to show results (sometimes weeks or months), if they ever do. Whitening kits that come with trays are ill-fitting and uncomfortable to wear for extended periods of time. When you have your teeth whitened professionally, the treatment is finished within one day, in one appointment. There's no need to disrupt your schedule by wearing a tray every day and little to no concerns about irritation of the gums since the procedure will be handled by a skilled dentist.

Who Is a Candidate?
Any patient with generally good dental health may be a candidate for professional teeth whitening. Keep in mind that some patients aren't eligible for this treatment because they have stains that can't be cleared with whitening gels. This is the case when the stain is "intrinsic," which means the discoloration is at the inner layer of the tooth. You dentist can tell you if your teeth can be successfully whitened at your initial consultation.

What Will Happen at the Whitening Appointment?
Set aside at least an hour of your time for your teeth whitening appointment. You'll sit back in your chair as the dentist inserts a device to keep your lips separate from your teeth then applies the gel. You'll wait for anywhere between 60-90 minutes until the whitening effect has set in. Many patients choose to have this treatment performed on a lunch hour.

How Long Will the Teeth Stay White?
You can expect to enjoy your new whiter smile for about one to two years or longer. The length of time your smile will last depends on you and your dental habits. If you go back to eating the same foods and drinking the same beverages that stained your teeth in the past, the problem is likely to return more quickly. Use a straw, brush regularly and see your dentist for cleanings twice per year.
Contact Your Dentist

You will be happy with the way that your smile looks after going to your dentist for a teeth whitening treatment. If you have more questions, call for an appointment today.