Posts for tag: celebrity smiles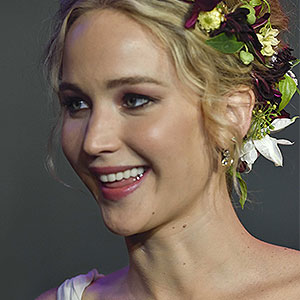 Hollywood superstar Jennifer Lawrence is a highly paid actress, Oscar winner, successful producer and…merry prankster. She's the latter, at least with co-star Liam Hemsworth: It seems Lawrence deliberately ate tuna fish, garlic or other malodorous foods right before their kissing scenes while filming The Hunger Games.
It was all in good fun, of course—and her punked co-star seemed to take it in good humor. In most situations, though, our mouth breath isn't something we take lightly. It can definitely be an unpleasant experience being on the receiving end of halitosis (bad breath). And when we're worried about our own breath, it can cause us to be timid and self-conscious around others.
So, here's what you can do if you're concerned about bad breath (unless you're trying to prank your co-star!).
Brush and floss daily. Bad breath often stems from leftover food particles that form a film on teeth called dental plaque. Add in bacteria, which thrive in plaque, and you have the makings for smelly breath. Thorough brushing and flossing can clear away plaque and the potential breath smell. You should also clean your dentures daily if you wear them to avoid similar breath issues.
Scrape your tongue. Some people can build up a bacterial coating on the back surface of the tongue. This coating may then emit volatile sulfur compounds (VSCs) that give breath that distinct rotten egg smell. You can remove this coating by brushing the tongue surface with your toothbrush or using a tongue scraper (we can show you how).
See your dentist. Some cases of chronic bad breath could be related to oral problems like tooth decay, gum disease or broken dental work. Treating these could help curb your bad breath, as can removing the third molars (wisdom teeth) that are prone to trapped food debris. It's also possible for bad breath to be a symptom of a systemic condition like diabetes that may require medical treatment.
Quit smoking. Tobacco can leave your breath smelly all on its own. But a smoking habit could also dry your mouth, creating the optimum conditions for bacteria to multiply. Besides increasing your disease risk, this can also contribute to chronic bad breath. Better breath is just one of the many benefits of quitting the habit.
We didn't mention mouthrinses, mints or other popular ways to freshen breath. While these can help out in a pinch, they may cover up the real causes of halitosis. Following the above suggestions, especially dental visits to uncover and treat dental problems, could solve your breath problem for good.
If you would like more information about ways to treat bad breath, please contact us or schedule an appointment. To learn more, read the Dear Doctor magazine article "Bad Breath: More Than Just Embarrassing."
Professional Hockey player Keith Yandle is the current NHL "iron man"—that is, he has earned the distinction of playing in the most consecutive games. On November 23, Yandle was in the first period of his 820th consecutive game when a flying puck knocked out or broke nine of his front teeth. He returned third period to play the rest of the game, reinforcing hockey players' reputation for toughness. Since talking was uncomfortable, he texted sportswriter George Richards the following day: "Skating around with exposed roots in your mouth is not the best."
We agree with Yandle wholeheartedly. What we don't agree with is waiting even one day to seek treatment after serious dental trauma. It was only on the following day that Yandle went to the dentist. And after not missing a game in over 10 years, Yandle wasn't going to let a hiccup like losing, breaking or cracking nearly a third of his teeth interfere with his iron man streak. He was back on the ice later that day to play his 821st game.
As dentists, we don't award points for toughing it out. If anything, we give points for saving teeth—and that means getting to the dentist as soon as possible after suffering dental trauma and following these tips:
If a tooth is knocked loose or pushed deeper into the socket, don't force the tooth back into position.
If you crack a tooth, rinse your mouth but don't wiggle the tooth or bite down on it.
If you chip or break a tooth, save the tooth fragment and store it in milk or saliva. You can keep it against the inside of your cheek (not recommend for small children who are at greater risk of swallowing the tooth).
If the entire tooth comes out, pick up the tooth without touching the root end. Gently rinse it off and store it in milk or saliva. You can try to push the tooth back into the socket yourself, but many people feel uneasy about doing this. The important thing is to not let the tooth dry out and to contact us immediately. Go to the hospital if you cannot get to the dental office.
Although keeping natural teeth for life is our goal, sometimes the unexpected happens. If a tooth cannot be saved after injury or if a damaged tooth must be extracted, there are excellent tooth replacement options available. With today's advanced dental implant technology, it is possible to have replacement teeth that are indistinguishable from your natural teeth—in terms of both look and function.
And always wear a mouthguard when playing contact sports! A custom mouthguard absorbs some of the forces of impact to help protect you against severe dental injury.
If you would like more information about how to protect against or treat dental trauma or about replacing teeth with dental implants, please contact us or schedule a consultation. To learn more, read the Dear Doctor magazine articles "Dental Implants: A Tooth-Replacement Method That Rarely Fails" and "The Field-Side Guide to Dental Injuries."
The 2019 Grammy Awards was a star-studded night packed with memorable performances. One standout came from the young Canadian singer Shawn Mendes, who sang a powerful duet of his hit song "In My Blood" with pop diva Miley Cyrus. But that duo's stellar smiles weren't always quite as camera-ready as they looked that night.
"I had braces for four and a half years," Mendes told an interviewer not long ago. "There's lots and lots and lots of photo evidence, I'm sure you can pull up a few." (In fact, finding one is as easy as searching "Sean Mendes braces.")
Wearing braces puts Mendes in good company: It's estimated that over 4 million people in the U.S. alone wear braces in a typical year—and about a quarter of them are adults! (And by the way: When she was a teenager, Miley Cyrus had braces, too!)
Today, there are a number of alternatives to traditional metal braces, such as tooth-colored braces, clear plastic aligners, and invisible lingual braces (the kind Cyrus wore). However, regular metal braces remain the most common choice for orthodontic treatment. They are often the most economical option, and can be used to treat a wide variety of bite problems (which dentists call malocclusions).
Having straighter teeth can boost your self-confidence—along with helping you bite, breathe, chew, and even speak more effectively. Plus, teeth that are in good alignment and have adequate space in between are easier to clean; this can help you keep your mouth free of gum disease and tooth decay for years to come.
Many people think getting braces is something that happens in adolescence—but as long as your mouth is otherwise healthy, there's no upper age limit for orthodontic treatment. In fact, many celebrities—like Lauren Hutton, Tom Cruise and Faith Hill—got braces as adults. But if traditional braces aren't a good fit with your self-image, it's possible that one of the less noticeable options, such as lingual braces or clear aligners, could work for you.
What's the first step to getting straighter teeth? Come in to the office for an evaluation! We will give you a complete oral examination to find out if there are any problems (like gum disease or tooth decay) that could interfere with orthodontic treatment. Then we will determine exactly how your teeth should be re-positioned to achieve a better smile, and recommend one or more options to get you there.
If you have questions about orthodontic treatment, please contact our office or schedule a consultation. You can read more in the Dear Doctor magazine articles "The Magic of Orthodontics" and "Lingual Braces: A Truly Invisible Way to Straighten Teeth."